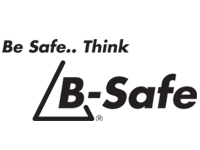 B Safe
Part No: BSAFBSK0006
MPN: BSK0006
DescriptionTo comply with the requirements of AS/NZS 1891.1 all hooks and karabiners used within hei..
$63.68 Each
Ex Tax: $57.89
Part No: BSAFBL05332.5
MPN: BL05332.5
DescriptionB-Safe self retracting lanyard allows mobility up to 2.5 metres. Features a webbing guide..
$318.32 Each
Ex Tax: $289.39
Part No: BSAFBSC5006LSLP-L
MPN: BSC5006LSLP-L
DescriptionRated at 22kN B-Safe anchor points are designed as permanent purlin mounted anchors. Affo..
$204.34 Each
Ex Tax: $185.76
Showing 1 to 3 of 3 (1 Pages)